Written by: Vivian Orr, SCC Communications and Publications Coordinator
#ABCraft is the current exhibition in the Feature Gallery at Alberta Craft Council (ACC), 10186 – 106 Street, Edmonton, AB – on until July 2, 2016.
#ABCraft looks at how digital technology is enhancing or impacting fine craft artists in Alberta. Social media, digital imaging and 3-D printing are becoming more common and an increasingly important career opportunity for fine craft artists. The exhibition features new and recent work by artists using digital technology in many ways including communications, marketing, research, image development, prototyping and production.
In April, I had the opportunity to drop into the ACC and see this diverse exhibition. As someone who is exploring digital technology in my own work, I found the comments and descriptions by the artists about their processes both interesting and timely. I approached the #ABCraft artists and asked them to answer a series of questions. We have featured their replies on the SCC Blog over the past few weeks. Read them all here. I hope you enjoy the #ABCraft artists thoughtful and insightful answers as much as I did.
---
Bob Pike
info@pikestudios.com
www.pikestudios.com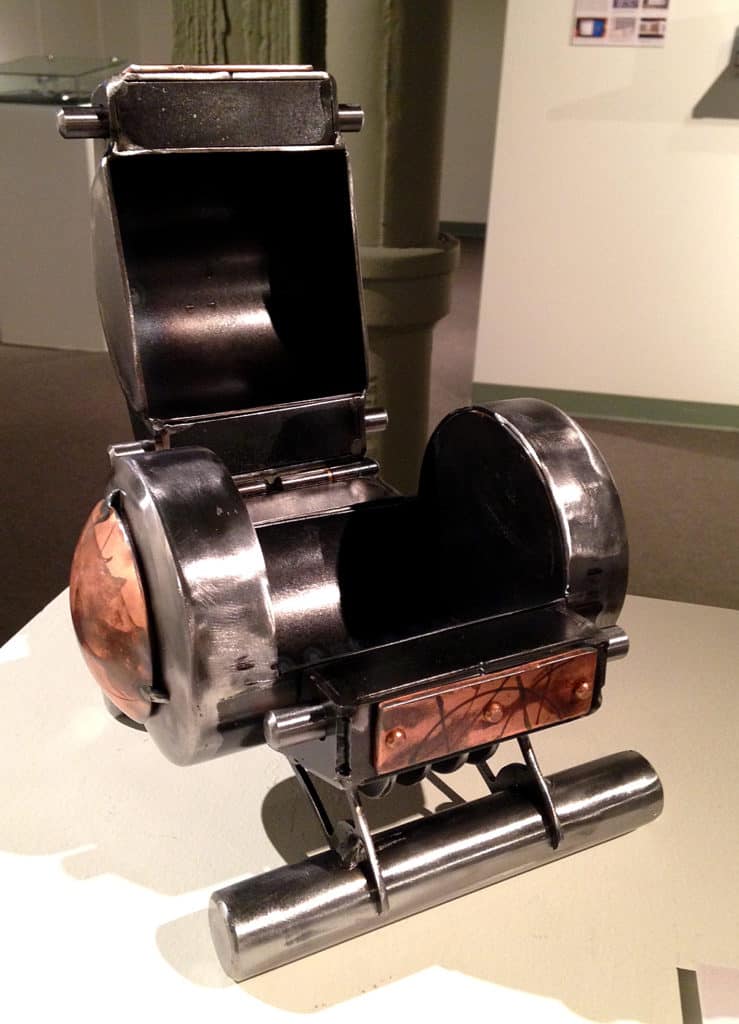 Did you have a "fine craft crisis of conscience" moment when you initially contemplated integrating digital technology into your work?
No crisis of conscience.  I lost my profession as a potter of 25 years due to environmental health problems. At times I was too ill to work at anything in my studio, so I began my journey working at art with my computer.
I've never limited the description of myself to any one kind of output —potter, painter, graphic designer. I have always been a 'creative' person who is a maker. Digital tools are just another kind of pencil or brush.
Have you found viewers and purchasers of your work puzzled, conflicted, oblivious or completely comfortable with the digital aspects of your work?
I have found that most people have no idea of the processes that go into any art or craft. Most believe it to be a 'hobby' anyway. Unless I explain it or show them very carefully (which I have spent years doing)  most don't understand.
How does digital technology enhance your artistic or business practices?
Without digital technology. it would be nearly impossible to do the metal work that I do. Saying that — the biggest part of the digital technology I use is in the design process. I am much more an artist designer than a craftsperson. My CNC plasma cutter cuts out the parts I design but unless I explain that to customers, they are happy to think I find most of the pieces in a junk yard and just weld them together. They ask me two questions (when they see the price of one of my boxes) "How long did it take you to make that" and "What would I use that for". My answer, ("45 years", and"That's where you keep your 45 automatic") Artists and Craftspeople desperately need an educated public.
How difficult was it to incorporate digital technology into your work flow?

The digital technology defines my work flow and has always been part of it. There is an assumption in this question that digital technology really has no place in hand crafted objects, or that it is somehow the antithesis of hand crafted.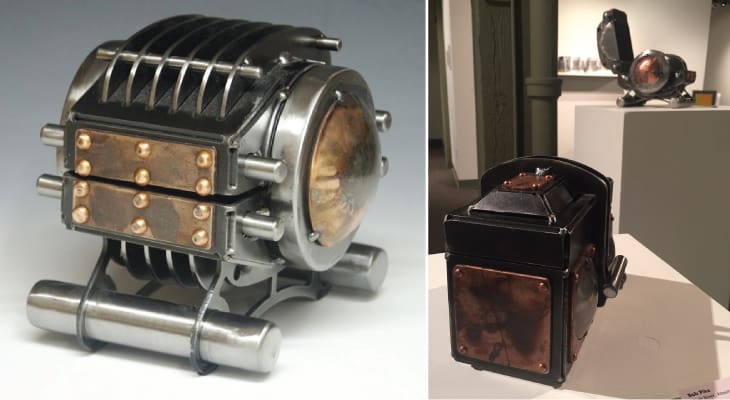 Where did you acquire the skills, software and hardware?
All the work I do comes from the basic 'Learn what you need to know to do the things you need to do'. I teach myself through the internet, YouTube, or books or the manuals that come with the hardware or software. YouTube is invaluable.
What technological tool would you love to get your hands on in the future?
If only I could get my hands on a machine that would make me invisible. I could start working on some of the people in the world, I mean problems in the world that bother me and disrupt my art practice. Not a 3D printer. RUN, RUN, RUN.
Is there anything else you would like to share about your experience with fine craft and digital technology?
The most important thing about working in the arts and crafts or theatre or movies or music  — or all the other arts,  is for people to find their own voice, to have something to say other than parroting what others are saying around them. I get very tired of seeing that everyone is now wood firing or everyone is now doing soda firing or everyone is now performing Japanese Tea Ceremonies. When you see a 'trend' happening run the other way as fast as you can. Be true to your own creative spirit and just remember the only rule in the arts is that there are no rules————EVER.   And when someone tells you it has all been done before, just remember again, that the statement is coming from someone who is not a very creative individual and is unable or too lazy to come up with anything that is unique on their own. Using any kind of technology or tool is just another way to develop and complete your vision. You will have to decide if you are the one driving your process or is it the technology. If you have a computer spitting out new designs and then 3D printing little objects, then you do not have an arts practice, you have a business.
I guess a last word might be what the intent of some people's practice is. There are two very distinct kinds of crafts practice out there. One is to do things as they were always done with the highest hand craftsmanship possible as in digging you own clay and glaze materials, wedging all your clay by hand and using a kick wheel to throw pots and I guess you would also have to throw pots by candle light and have no electricity in your studio, then you might follow either the Japanese or English traditions. This is also true for most crafts. Many people like the idea of a craft tradition and I guess that's their comfort zone.
The other way is to believe you were put on this planet to sing your own valuable song and to work very hard at finding out what that song is and to do it anyway that works for you. I'm sure some people would not be classified as fine Crafts People following these guidelines but you may just be a very creative artist doing this and you may even start a new tradition.
I've been making a living at art and craft full time since 1968. Hope some of these answers spark some interest and maybe some controversy.