Submitted by: Jennifer Baetz, Fine Arts Librarian, Saskatoon Public Library
Craft Bomb Your Bike: 20 Makes for You & Your Bike (edited by Shara Ballard)
746.43043 CRAF (Frances Morrison Central Library, JS Wood Branch)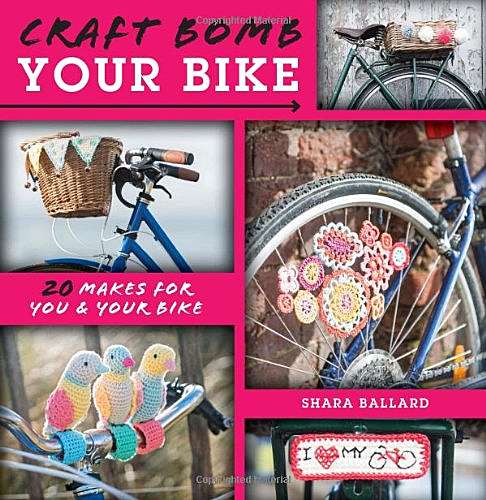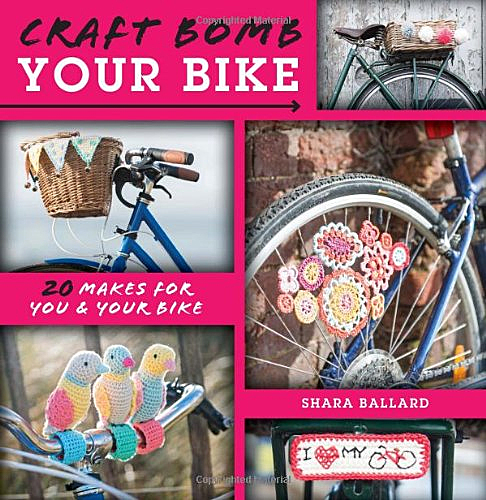 We're deeply entrenched in the winter and I'm constantly glancing longingly at my bicycle sitting in the corner of my apartment, still dirty from a summer of riding.  The stationary bike at the gym just doesn't cut it for me.  I refuse to ride in the snow, but wish I could spend some time with my real bike during these dark, cold days.  Craft Bomb Your Bike: 20 Makes for You & Your Bike may be just the ticket.
This delightful book includes a variety of colourful craft projects that utilize different techniques, such as crochet, knitting, and machine sewing, as well as no-sew options.  It is targeted to all levels of crafters, from newbies right up to experienced makers.  For chilly weather bike riders, projects such as "Knitted Toasty Ear Warmers" and "Cosy Wrist Warmers" will help keep the cool air away.  More practical cyclists will appreciate the "Be Prepared Tool Roll," a handy way to store and carry all bike maintenance essentials.  Many projects are designed to make your ride unique and the talk of the bike lane, including "Handlebar Birdies," "Basket Bunny Ears," and "Playtime Handlebar Streamers."  (Who doesn't love handlebar streamers?)
Plenty of colour photographs are included to spark inspiration.  Each project contains both written instructions as well as illustrations to provide guidance.  The book contains a "Techniques" section that again provides crafters with illustrations and written instructions on basic fundamentals for the projects.  This is helpful for crafters who are new to crochet, knitting, and sewing, as well as those requiring a refresher.  A section about the contributors of the book, crafty bloggers from around the globe, is also included just before the index.
Spend some time on just one or two of these fun crafts and you'll be even more excited to get your wheels out for that first ride of the spring.