Canadian Crafts Federation Conference: Quebec City, September 24-27, 2015
by Vivian Orr, Saskatchewan Craft Council, Communications & Publications Coordinator
To read the first part of Vivian's post, click here.
Just a few weeks ago, Carmen (SCC Executive Director), David Freeman (SCC Board Member and CCF Representative) and I attended the Canadian Crafts Federation annual conference Igniting Citizenship: Building a Collaborative Craft Community in Quebec City.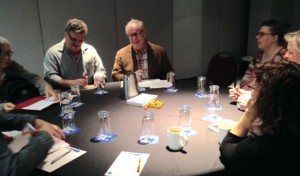 The Friday afternoon Mentorship & Camaraderie: Meet & Mesh Sessions had CCF conference attendees dividing into groups to discuss recent activities or events that helped their organizations move forward, talk about short and long term goals, and share items of interest. We discovered so many of us – whether on the coasts, the prairies or in France, share similar problems, goals, obstacles and passions (and dare I say, funding concerns). But the enthusiastic sharing of success stories, big or small, and stories about building partnerships to further organizations' goals were inspiring.
Friday evening found us boarding buses to Montmorency Falls Park. Many of us followed the boardwalk over to view the waterfall from the suspension bridge. The falls are 83 m high – 30 m higher than Niagra Falls!
Afterwards we attended the CCF Naked Craft en direct Symposium (inspired by the Naked Craft exhibition). The panel's keynote speaker was Dr. Denis Longchamps, Chief Curator, Art Gallery of Burlington and a moving force behind the Naked Craft exhibition. Other panelists were Dr. Sandra Alfody, NSCAD University, NS; Dr. Juliette MacDonald, head of the School of Design, Edinburgh College of Art, University of Edinburgh; and Claudio Pino, Jewellery Designer and Goldsmith. It was an evening filled with historical craft reference's, tongue-in-cheek pokes at current appropriations of craft (Mercedes Benz – handcrafted by racers???), a tour of West Kilbride, Craft Town Scotland, and some of the story behind Claudio Pino's jaw dropping rings (really they are kinetic sculptures in precious metals.)
Saturday introduced us to SOS Design Inc.: the agency that conceived the Citizens of Craft movement, the brand identity and built the website. They lead us through visioning exercises that had the room buzzing and all our creative minds turning. We were encouraged to think big, think national and ignore all constraints (e.g. funding, staffing, approvals, etc.). We generated some great ideas for 1 year, 3 year and 5 year implementation that hopefully will allow us to reach out to many segments of Canadian society.
After lunch Carmen was one of the presenters for the Building Identify Panel: Portraits of Success – New Craft Tactics & Programming. Carmen spoke about Art Passport YXE; Arts Vest and Business for the Arts; SCC's Wholesale and Gallery Representation Programs as well as our new website and stronger online presence. Bernard Burton, Craft Alliance, shared the incredible success of their 6 short films on NS craft artists. Raine McKay, CCBC, showed a video interview of a choreographer who is creating dance inspired by and incorporating craft.
We finished the day with concurrent sessions, which offered the opportunity for participants to build relationships and collaborate while tackling big topics: Carmen attended Citizens of Craft – Continued Conversations; Vivian attended International Craft Activity – Defining our Goals; and David Freeman, Saskatchewan Craft Council CCF Representative, attended Diversity in Craft – Working towards Aboriginal Representation.
It was a jammed pack schedule that left all of us excited, enthused and a bit exhausted. I think the CCF Mission Statement sums up the National Conference very nicely.
CCF Mission Statement
Promoting Craft, fostering relationships, networking, collaboration and national engagement.