Submitted by: Amanda Bosiak, Member Services
I'm a huge Joss Whedon fan: he's the creative genius behind Buffy the Vampire Slayer, Firefly, Dr. Horrible's Sing-along Blog and more recently, The Avengers movie. He also works on comic books, writes musicals and oh yeah, he scripted the first Toy Story movie. Joss Whedon is one busy guy and has been for a very long time. One of the reasons I admire him is because he seems to get so much high quality stuff done! I am always in awe of that type of person; How? How do they do it?
Recently, Whedon was asked that very question in an article for Co.Create and he admitted that it isn't easy (and that he's burnt himself out a time or two). One of the things he found useful, both for time management and remaining relatively stress-free, was a book by David Allen called "Getting Things Done". Well, if it was good enough for Joss Whedon, I figured it was worth the read.
Confession: It took me over a month to get the book done. This isn't because it's a difficult read, nor is it particularly long. I just happen to have an incredible aptitude for procrastination. I definitely needed this book.
The good news is, once I started reading it, the advice within inspired me to keep reading and GET IT DONE. I've found a lot of the tips and tricks in the book to be reasonable and easily implemented – it's really simple advice that makes you wonder why you didn't think of it before.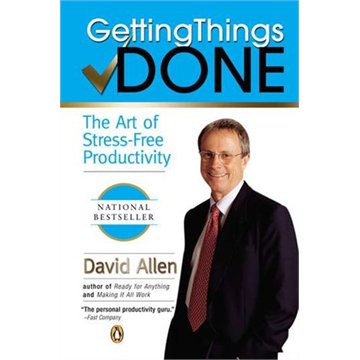 For example; the Inbox. Do you have one? Get one now. Then, put EVERYTHING in it. Not just things that come from outside sources (bills, orders, faxes, emails etc.) but notes to yourself like; Read Getting Things Done, clean studio, apply for travel grant, take New York art scene by storm, repaint dresser.
"The reason to collect everything is not that everything is equally important, it's that it's not."(David Allen, Getting Things Done, p. 232)
Allen then goes on to show you what to do with those things in your Inbox. Oh! You thought you already knew what to do with those things? Hmmm, no. It's actually pretty amazing how inefficiently most people (myself included) process the things in their inbox. Bonus: there's a flow chart for this!
Another revelutionary concept Allen introduces is the "Next Action" list. This is what most people might think of as their "To Do" list, but Allen argues that To Do lists don't work because they tend to lack clarity. For example, let's say "Clean Studio" is on your To Do list. That's all well and good, but what does that really mean? What is the Next Action that is going to allow you to get your studio clean and mark it off your list? Well, it might look something like this:
schedule time to clean studio (full morning or afternoon)
Prepare

get large garbage cans, bags (check if have enough, if not go to store)
get boxes for storage and donation stuff (call Sheila; she just moved, will have lots of boxes)
get cleaning supplies; broom, mop, rags, cleaner (check if have enough, if not go to store

Go through entire studio and separate garbage/keep/donate
Toss garbage (call Tom to borrow truck to take big stuff to dump)
Pack stuff for giveaway (call Community Living to arrange for pickup)
Top down clean: wipe/dust shelves & surface, sweep/mop floor, note anything that will need fixing
Put stuff away and label: if need more storage make a list, do a shopping run next time on errands
So on the one hand, a single item on your list just exploded and became a lot longer (and your list might be a lot more detailed than this depending on what shape your studio space is in). On the other hand, you now know exactly what the Next Actions are that you need to do to GET IT DONE. And if you have to postpone your cleaning day, or you get interrupted, you still know exactly what you're doing or where to pick up where you left off. And the best thing is that in the mean time, you don't have to worry about it!
"Bright people have the capability of freaking out faster and more dramatically than anyone else." (David Allen, Getting Things Done, p. 240)
In short, I highly recommend Getting Things Done. (There is also an audio version and a Coles-notes type abbreviated version) I'm working on implementing the skills Allen presents myself. It will take time – old habits really do die hard! But I'm already noticing a difference, productivity-wise (up!) and stress-wise (down!)