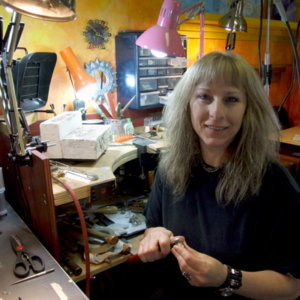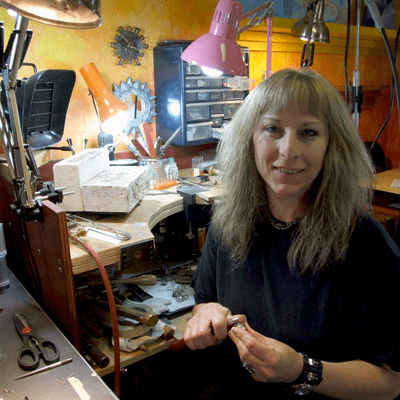 Melody Armstrong is a jewellery artist from Regina, Saskatchewan. Her solo exhibition Contemporary Jewellery by Melody Armstrong is on display at Affinity Gallery (813 Broadway Avenue, Saskatoon) from September 4 to October 17, 2015. Be sure to come by for the reception on Friday, September 11, from 7 to 9 pm!
How did you begin working in metal and jewellery?
I was very attracted to Jewellery and metals and I found it to be the most mysterious of all fine art mediums, so I went to the Alberta College of Art and Design for four years to learn how it was constructed. Before that I was creating some beaded and wire wrapped jewellery, but really wanted to go further and learn metalsmithing. It was something that was not going to be a self taught endeavour; I needed professionals and a fully equipped studio to enlighten me.
How would you describe your aesthetic or style? What is it that attracts you to this style?
I think my style is quite industrial with some organic aesthetic thrown in. I am attracted to contrasts of surfaces: colour, textures, shiny and rough. I like structures and architectural elements and negative spaces that result. I describe my work as industrial-organic.
How would you describe your process for creating a new piece? For example, do you sketch, or experiment, use a digital program, etc?
Sometimes I sketch a vision I am having in my mind, creating a pattern as a starting point, deciding on the steps to take to develop the piece. Other times I use certain design exercises that I teach in jewellery design class, two dimensional and three dimensional using card stock and scoring and bending methods. And at other times I might let a stone be the starting point and let it evolve as I am creating. Sometimes there are happy accidents that totally derail my original intentions to move me in a new direction.
Is there an element of your process that you find challenging?
I find custom orders the most challenging, as they have to remain the original intent and size that the customer is seeking. Some pieces with a lot of solder joins can be a challenge at times.
Is there an element of your process you enjoy the most?
Trying new techniques and the delight I get from the end result when I really like it! Pushing my own limits, moving out of my comfort zone.
The work for this exhibition was produced with the assistance of an Independent Artists Grant from the Saskatchewan Arts Board — How did this grant facilitate your art practice?
The Arts Board grant gave me the opportunity to devote a good amount of time to explore and experiment with new techniques and then to incorporate those into new designs.
I was able to create new wearable works that reflect the artistic possibilities of metal as jewellery. By mastering these new techniques and adding them to my repertoire, my work has evolved to a higher level, aiding in my execution of a more elaborate and complex body of work.
Did you find that focusing on creating work for this exhibition has taken you in different or new directions?
Absolutely! I think the new jewellery in this show is more spontaneous and sculptural than my previous work. I am excited to be incorporating some new materials and methods in my jewellery practice and creating an innovative body of work that pushes the boundaries of my past jewellery collection.
—


Melody's exhibition will be displayed in Affinity Gallery until October 17, 2015. You can read Melody's Artist Statment on her blog, here, and view photos of Melody's work in this solo exhibition on our website, here.