Written by: Maureen Schimnowsky, Interim Boutique and Administration Coordinator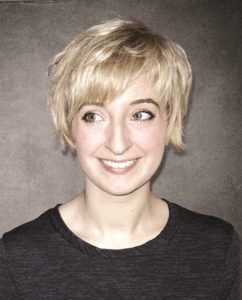 What do I love about the work I do at the SCC?
I love the art! As the Interim Boutique and Administration Coordinator in Donna Potter's absence, I had the unique opportunity to spend each day in the SCC's Gallery and Boutique. It's an incredible thing to spend 8 hours every day surrounded by beautiful handmade craft. It's exciting to watch the show-changes as they unfold, and it makes me itch to create things. It's impossible not to feel creatively inspired in such an environment!
Boutique
One of my favourite aspects of my job is working in the Fine Craft Boutique. The Boutique boasts over 75 juried Saskatchewan Craft Artists, and each of the pieces have been handcrafted. I love that handcrafted means every piece is perfectly unique! I keep track of the inventory as it enters and exits the boutique –  a crucial process for ensuring accurate records are kept for both the artists and the SCC. I also get to build displays within the boutique, and decide which pieces to rotate onto the shelves from our small (but jam packed!) storage area. It's incredibly enjoyable to spend an afternoon rearranging the shelves of the Boutique, and discovering which crystalline pieces of blown glass will sit well next to which piece of felted wool … or perhaps the vibrancy of the coloured glass will help tame the weighted whimsy of a perfectly thrown teapot …
Administration
Another part of my job is to take care of ongoing administrative aspects for the SCC. I order boutique items and office supplies, sort mail, take monthly office equipment counts, keep our public bulletin board up to date, monitor and schedule meetings in our boardroom, keep track of and balance all cash transactions and floats, make sure invitations for gallery shows are mailed out, and more. I also get to proof a number of Vivian's publications before they get sent to print (you can check out her blog post here!), which entails editing with scrutiny to find the tiniest misaligned details. I also worked with Vivian while compiling the information for the Calendar of Annual Craft Events, which is a nifty calendar that we publish every year. It's a free guide that includes the dates and locations of the major craft markets held throughout Saskatchewan, and is distributed by businesses across Saskatchewan and Tourism Saskatchewan.
Liaison Between the Public, the Members, and the SCC
I've also been the primary liason between the public and the SCC for the past three months. While I've had this same role as Gallery Assistant on weekends, it's very eye-opening – and heartening – to see just how many gallery-goers there are on a daily basis. I love how the people that walk in to the SCC Gallery are so invested in the art that this province produces, and I love how much they want to talk about the art and the exhibitions that we have. Art is a catalyst for discussion and interaction, and there's no place like a gallery setting to observe (and partake in) that truth at its finest.
EMMA International Collaboration 2016
Perhaps the largest aspect of my job has been helping to coordinate EMMA International Collaboration 2016. EMMA is an incredible collaboration between artists from all over the world that takes place in the Northern Saskatchewan Boreal Forest. As described on the EMMA website:
Every two years, one hundred artists from across the globe come together in the boreal forest of Saskatchewan to share in an experience of raw creation and open possibility. Affectionately known as 'Emma', this biennial weeklong event takes place at the Ness Creek Site in the heart of the Boreal Forest in Northern Saskatchewan, a place where form and function collide. Artists at various stages of their careers are challenged to step outside their usual art practice, to explore medium, technique and subject matter through hands on collaboration and exciting creative exchange.
I've been so fortunate over the past three months for getting an insider's view on the creation of EMMA. I've been able to connect with artists all over the globe via email and share in the EMMA excitement as each artist responds to their invite to this renowned collaboration. Acting predominantly as data-keeper extraordinaire, I've been the primary liaison between the artists and EMMA, answering questions and collecting registration forms and fee payments. It's so rewarding to be on
the receiving end of emails that are full of positivity and excitement for this weeklong excursion into a rabbit-hole of creativity.
What's Next?
Now that Donna has returned, I have resumed my position as Gallery Assistant at the SCC, so I'll still be spending time in the gallery on weekends and Thursday evenings. Quite wonderfully, my work on EMMA has been extended, and I can continue to work with the artists and EMMA committee to help the Collaboration come to be. The Saskatchewan Craft Council is such a dynamic and exciting place to work, and there is always so much going on! I look forward to everything on the horizon and being a part of the constant SCC bustle.