Submitted by: Amanda Bosiak, Member Services
Last night, four former Dimensions Jurors gathered at Affinity Gallery to discuss the merits of jurying, critique sessions and subjectivity.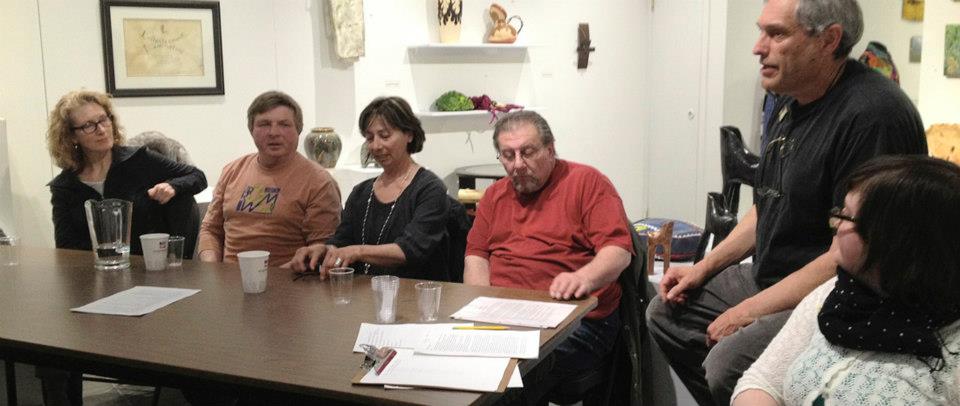 L-R: Former Dimensions jurors, Megan Broner, Michael Hosaluk, Anita Rocamora, Don Kondra
SCC Exhibitions Coordinators, Leslie Potter, Stephanie Canning
The panel consisted of:
Megan Broner, jeweller – Dimensions juror in 2000 with Susan Warner Keene, a paper/textile artist from Toronto
Michael Hosaluk, wood worker – Dimensions juror in 1994 with Lou Lynn, a glass artist from Winlaw, BC and this year with Susan Rankin, a glass artist formerly from Saskatchewan now based in Apsley, ON
Anita Rocamora, clay artist and sculptor – Dimension juror in 2006 on her own
Don Kondra, wood artist – Dimensions juror in 2002 with John Chalke, clay artist and instructor from Calgary
Each member of the panel was very candid about and shared their experiences acting as Dimensions jurors.

When Don Kondra juried in 2002, he said when looking at clay work he had much different concerns than that of his counterpart – a clay artist. For Kondra, when he picked up a clay piece he looked at and felt the bottom. As a wood artist he wanted to know if it would scratch the surface of a wood table.
Anita Rocamora's time as a juror in 2006 was particularly challenging, a very big responsibility. As the only juror that year, she didn't have to cede to the opinion or tastes of a fellow juror. However, Rocamora also didn't have someone to help make the tough decisions – she had to make them and defend her choices on her own.
Since 1983, Dimensions has had an out of province juror nearly every year. This practice was begun in order to mitigate any bias local jurors might have, being more familiar with the work of other artists in Saskatchewan. Megan Broner found the opportunity to work with an out-of-province juror very affirming; when it came down to the truly exceptional pieces the two were in concert. Bias has nothing to do with it when faced with superb entries.
Fibre and mixed media artist Annemarie Buchman-Gerber's wall tapestry "Homo Sapiens on Stitches" is one of the works selected for Dimensions 2013. Buchman-Gerber is also a former juror (Dimensions 1978 and 1979) and has had many works accepted to Dimensions over the years. She has also had many entries that did not get accepted. She attended the panel as an audience member, and told the group that accepted or not, the whole process serves as an important educational experience to practicing artists.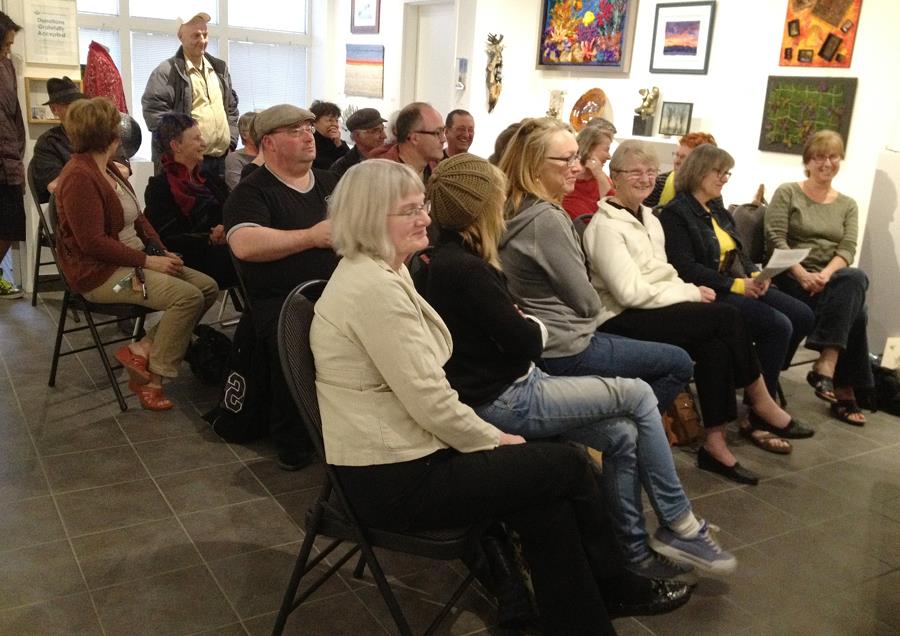 Part of the crowd attending the panel discussion.
Most artists work alone in their studios, with very little day-to-day interaction with or feedback from other artists. In the earlier days of the SCC, staff and volunteers organized monthly critique sessions where artists could come out of their studios in order to have other artists tell them what they thought was working and what wasn't and offer ideas for improvement. Dimensions does that today via the Jurors' Critique. There is less one-on-one but the opportunity to hear the jurors' reflections is still very worthwhile.
Michael Hosaluk has already spoken at the Dimensions public critique a few weeks ago about why he and Susan Rankin made the choices they did for Dimensions 2013. A common criticism jurors of any Dimensions receive, goes back to the SCC's own standards of excellence and jury criteria, and their belief that the jurors sometimes choose work that does NOT meet those standards. Hosaluk stated that is true enough, because sometime's the object's presence is so powerful it transcends less than perfect mastery in skills.
These topics and conversations will continue at the Round Table Discussion for "The Jury's Out" this coming Sunday, May 26th from 2-4pm at Affinity Gallery. Michael Hosaluk will once again be in attendance, along with Lee Brady and more former Dimensions jurors!
What do you want to talk about at the Round Table?