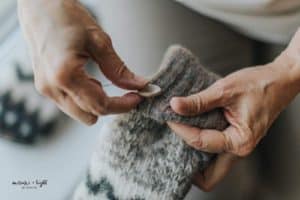 Written by: Karen Boldt, SCC juried Professional Craftsperson
If your mittens from Something from Nothing have a little button embellishment on them (about half of them do), there's a story as to where they came from. Several years ago, I stumbled upon a few of these beautiful ceramic buttons at a flea market. I bought a handful and decided that they really finished my mittens well. I inquired with the seller if she had more. She did, but they were in storage in a shed on her family's farm. These little gems were handmade by her mother and grandmother in the mid-1970s, packaged for craft markets. The many buttons that didn't sell were boxed up and forgotten for 40 years or so. I know a good thing when I see it, so I immediately asked if I could purchase all she had. She was so happy to be able to do just that! We've been using these buttons now for several years and hopefully we have enough to last a few more.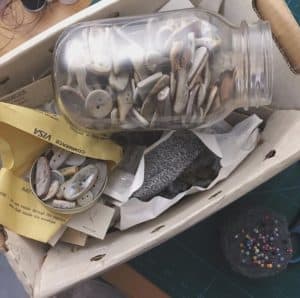 Some customers have told me that when they entered their house on a freezing cold winter day and tossed their mitts on the ground, the buttons broke. I've also heard that a few have come out of the washing machine broken (which is why the label says to hand wash). Despite these concerns, I just can't stop using these sweet little extras made so long ago with love and attention to detail. They are another "something from nothing" aspect we like to add to our mittens.
An interesting twist was added to this story this past spring, when I applied to be juried by the Saskatchewan Craft Council. I brought several samples of my mittens along with a jar of these amazing buttons to display for the artists assessing my work. Lo and behold, one of my jurors was the talented Cindy Hoppe, a fibre artist and — coincidentally — the maker of the lovely buttons! She and her mother Myrna Harris handmade hundreds in the mid-1970s. Cindy told me that her mom must be smiling down from heaven seeing how people are still enjoying her handmade creations.
Thank you so much, Cindy, for creating these little embellishments with your mom years ago. I love the connection makers have with each other here on the prairies, even through generations.
---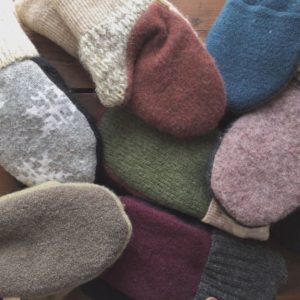 Editor's Note: Karen passed her jury! You can find more information about that here.
Check out Karen's SCC member profile: saskcraftcouncil.org/project/karen-boldt
Follow Something from Nothing Mittens online: