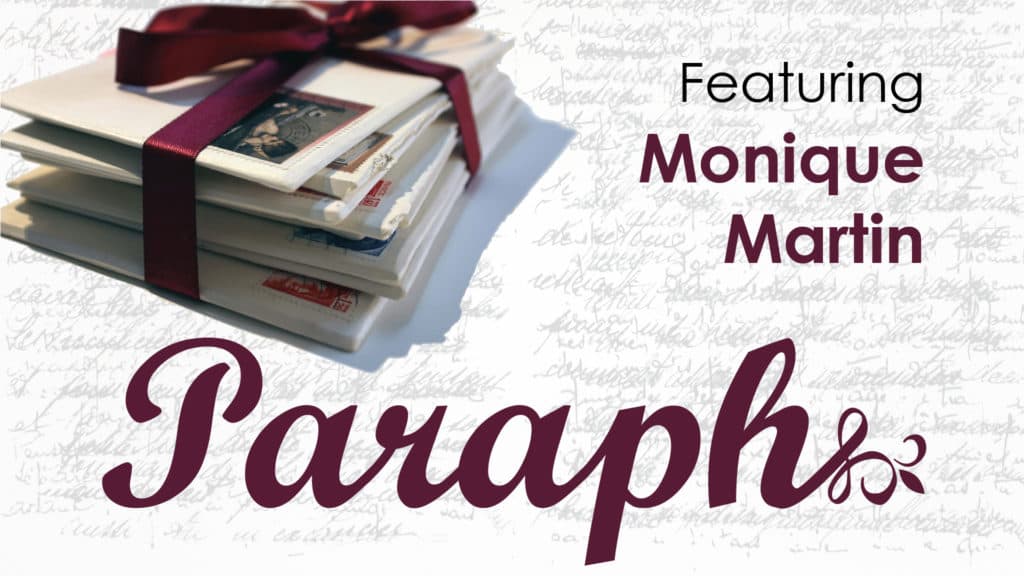 Paraph is a new exhibition by Monique Martin, a multi-disciplinary artist from Saskatoon.
The disappearance of certain modes of communication — handwriting and the mailed letter — is the inspiration for this new series of work by Martin. Using clay, printmaking, painting, and installation, Martin sets out to explore the tactile nature of handwriting and the sending of letters as a tool for human connection.
Monique Martin describes what draws her to handwritten letters as opposed to digital forms of communication: "The touching through handwriting, pen, and paper across a distance. The effort to write, enclose a letter, and mail it makes it a cherished object, a special gift, to be held with a type of reverence."
This exhibition also featured collaborative works with artist Frank Vescio. Martin and Vescio used the postal service to send works between their studios in Saskatoon and Paris, France. The artworks are marked with the repetitive folding, stamps, and other marks of the nature of travel.
Visitors to Paraph were invited to send a letter to a loved one at a special letter writing station in SCC Gallery. In celebration of National Letter Writing Month (April), our friends at Soul Paper collaborated with Monique Martin and added linocut art to all the letters left in their shop or in our gallery. Each letter received this special treatment as part of Paraph.
The public Artist Talk featuring Monique Martin and Frank Vescio took place on Thursday, April 19 at 7 pm. This Artist Talk featured musical entertainment by Mary & the Wiser, a Saskatoon-based band made up of Carla Carignan, Tom Chunick, and Glenn Ens. Mary & the Wiser is currently in the process of writing and recording an album of original music, in collaboration with a number of local artists, including Sheldon Corbett and Monique Martin. Their music incorporates elements of pop, rock, country and blues.
Monique Martin worked with Carla to write some songs related to the topic of the exhibition. This song "Your Heart to Mine" was inspired by the painting "Collective Memories" and is performed by Mary & the Wiser.
Read the Paraph Artist Statement and Curitorial Statement