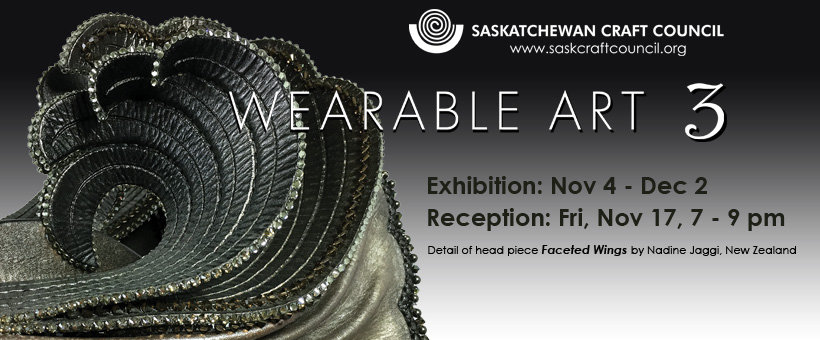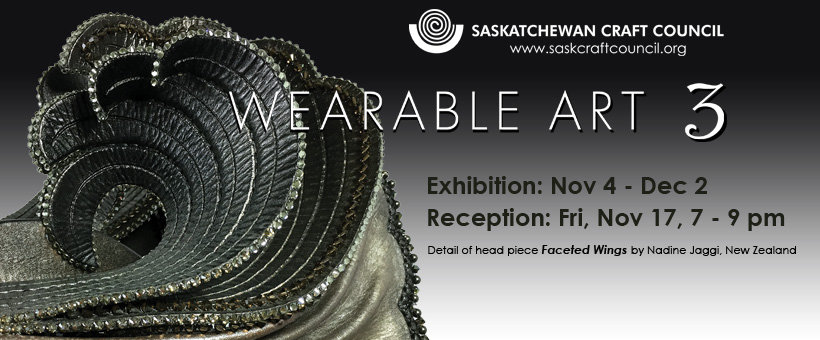 The Saskatchewan Craft Council is pleased to present Wearable Art 3 — an exhibition of intricate, fanciful, and creative original designs — at SCC Gallery from November 4 to December 2, 2017. The show is curated by SCC Exhibitions Coordinators Stephanie Canning and Maia Stark from pieces presented at the Saskatchewan Wearable Art Gala.
Wearable Art 3 highlights local, national, and international artworks that push the boundaries of wearable design. The selected pieces are not only examples of fine craftwork, but transform their chosen materials, creating unique and inspiring pieces!
The Saskatchewan Wearable Art Gala (SWAG) is a biennial event presented by the board of the Jack Millikin Centre. The 3rd SWAG was held on October 28, 2017 in Saskatoon. Proceeds from the event went towards the Jack Millikin Centre, a future four-season event centre in the boreal forest of Saskatchewan. Artists from Saskatchewan to as far away as New Zealand submitted works. Their pieces will be unveiled at SWAG in a fashion show with awards presented at the end of the evening.
Visit the exhibition to see the award winning pieces up close — including "Best in Show." Join us at a public reception on Friday, November 17 from 7 to 9 pm and meet some of the artists. All are welcome! Facebook Event.
Many of the pieces in this exhibition are available in our Online Store!